Nederlands
Peter van der Kroef (geboren 1947) kreeg zijn opleiding aan de Keramische Afdeling van de Technische School in Gouda. Daarna heeft hij de avondacademie voor de Beeldende Kunsten te Rotterdam doorlopen. In 1963 trad hij in dienst bij een gerenomeerd aardewerkbedrijf waar hij door middel van een gedegen interne opleiding zich bekwaamde in alle facetten van het decoreren van keramiek. Als veelzijdig schilder / vormgever maakte hij vele ontwerpen voor onder andere Shell, KLM en het Wereld Natuurfonds. Ook verzorgde hij de interne opleiding voor nieuwe vakmensen.
Na zich in 1994 als vrij kunstenaar te hebben gevestigd, is hij zich steeds meer gaan toeleggen op het aquarelleren en pentekeningen van stadsgezichten, gebouwen, winkels, restaurants, etc. welke ter plaatse vervaardigd (kunnen) worden. Tijdens zijn reizen naar onder andere Noorwegen, met zijn indrukwekkende berglandschappen en uitgestrekte hoogvlakten, Frankrijk en Tsjechie, doet hij zijn inspiratie op. Ook heeft hij vele cursussen gegeven op het gebied van plateelschilderijen, aquarelleren en tekenen.
Peter van der Kroef weet op een zeer eigen wijze, met een combinatie van technieken, zijn werk een speciale uitstraling te geven.
Tentoonstellingen onder andere:
Ernst en Young
Ministerie van Binnenlandse zaken
Euromast Rotterdam
St. Janskerk Gouda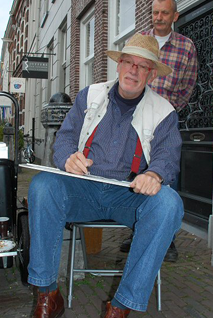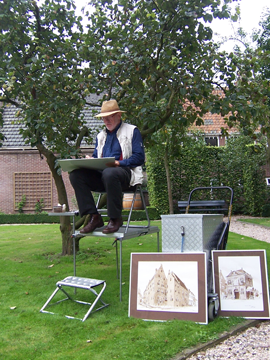 English
Information concerning (the exhibitor) Peter van der Kroef
Born in 1947 and bred in Gouda, Peter van der Kroef started his education at the ceramic department of the Polytechnic School in Gouda. Next he completed the evening academy for Pictorial Arts in Rotterdam. Since 1963 he works as a ceramic designer and he was guest lecturer at the Crabeth multilateral school in Gouda.
As a free artist, Van der Kroef has applied himself more and more to water colours painting and pen-and-ink drawings. During his travels he acquired, among others, inspiration in Norway with its impressive mountainous landscapes, he worked in France, in Czechie, in beautiful Bohemia with its artistic cities and in the rough Tatra mountain ranges of Slovakia and northern Italy.
A good counterpoise is made by series of Dutch landscapes, for which Peter van der Kroef loves to get inspired by a stilled lake area or by outstreched Tiendweggetjes (=small rural roads between tithes) in the polder.
These last years, Peter van der Kroef has applied himself more and more to painting town views. Here he shows that he has found his own, unique way of creating, using a combination of water colour painting and pen-and-ink drawings. The use of this particular combination of techniques enables him to emphasize the expressiveness in his work, creating thus a very specific radiation.
Peter van der Kroef has had expositions at e.g. the Department of Home Affairs in The Hague.